How to Create a Clipping Path in Photoshop
Do you frequently wonder how to create a clipping path in Photoshop easily? If so, here's the perfect answer to your question. Clipping paths are usually made into a closed vector path or an individual shape by software's such as Adobe Photoshop and Illustrator.
Manipulating, changing or removing the background from an image are some basic clipping path purposes to be carried out by professionals.
Using the clipping path method to manipulate an image, for example removing a background of one image and replacing the object from there to another background is very effective to make the image look attractive. 
As effective as this method is, it needs to be carried out by professional designers. One of the very common software used for clipping path technique is photoshop. It is simple and easier to be a little smooth when photoshop is used for this background removal process. 
Here are the steps on how to create a clipping path in photoshop
. 
Step 1: Upload your Image after launching Adobe Photoshop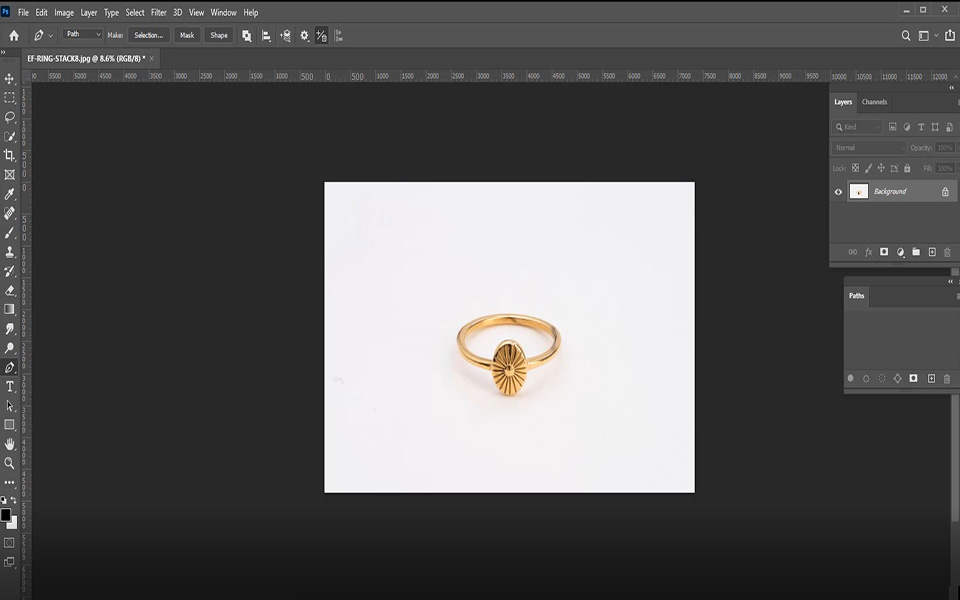 After you successfully open photoshop, go to File > Open. Browse through your photos and upload the image that you want to edit. 
Step 2: From the main toolbar, select the pen tool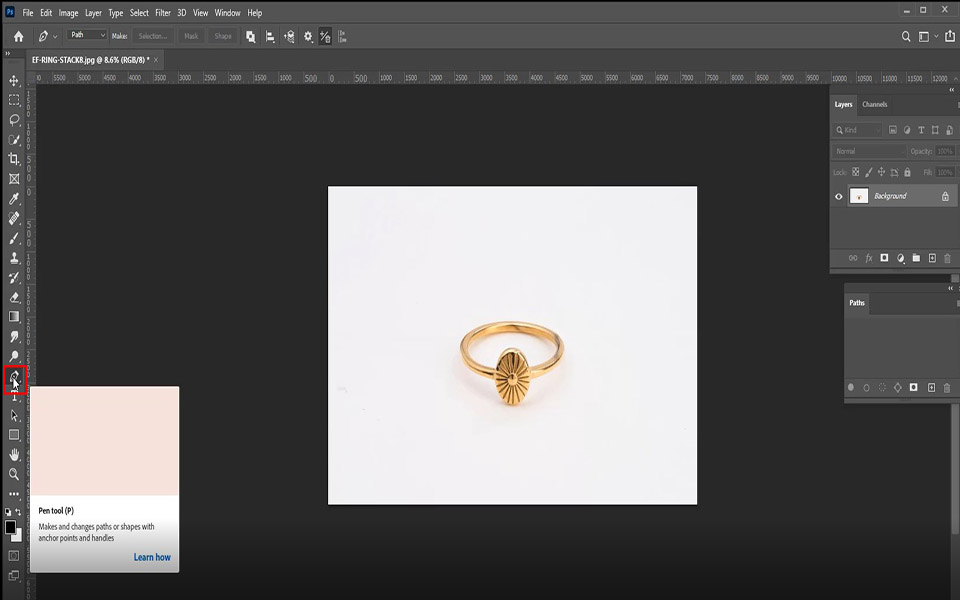 Go to the main toolbar, on the left as shown in the image below, and select the pen tool. To bring accurate results from a pen tool, a good amount of practice is required. 
Step 3: Select a new path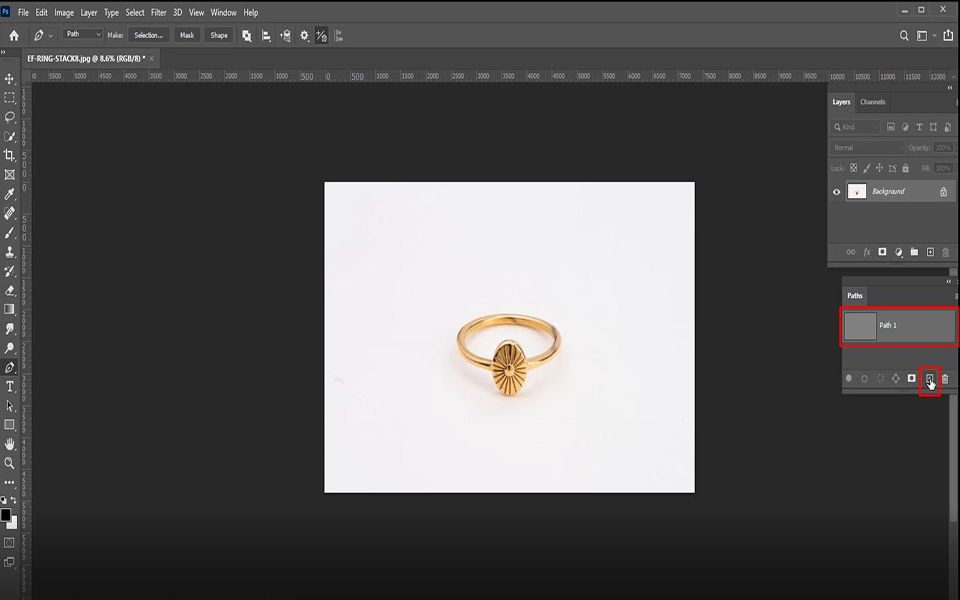 For creating clipping of the image, select a new path as shown in the image below. 
If you cannot find the path option automatically, you can go to windows from the above menu and select path. 
Step 4: Start to draw the exact shape of the image that you have uploaded

Step 5: Draw a clipping path around your product

Make sure that the path is done accurately and spending on the shape of the object time taken to draw a clipping path might vary. 
Step 6: Use 'Ctrl + Enter' for selection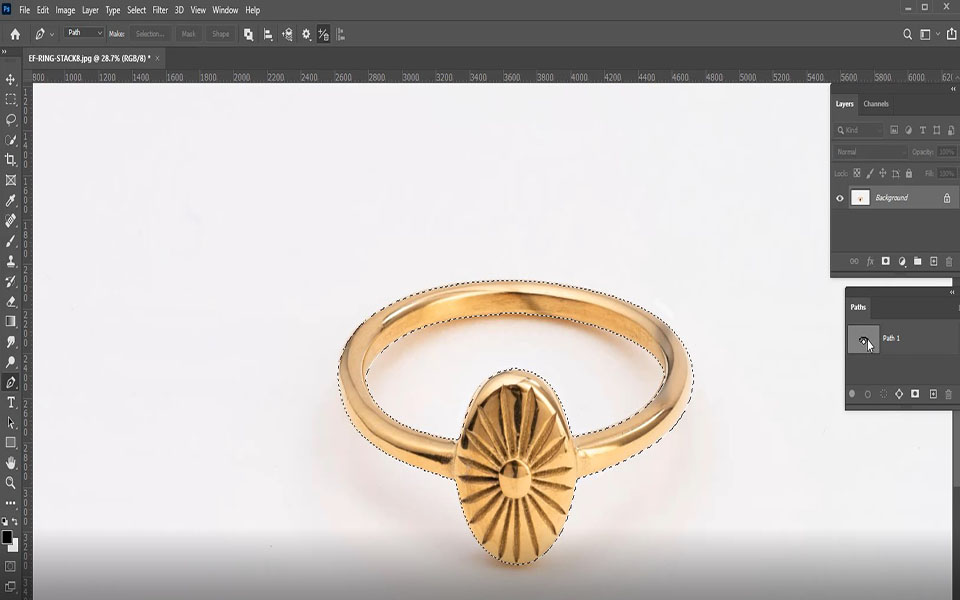 For selecting the clipping path that you have created use the shortcut 'Ctrl + Enter'
Step 7: Use 'Select > Modify > Feather' or 'Shift+F6' for smoothness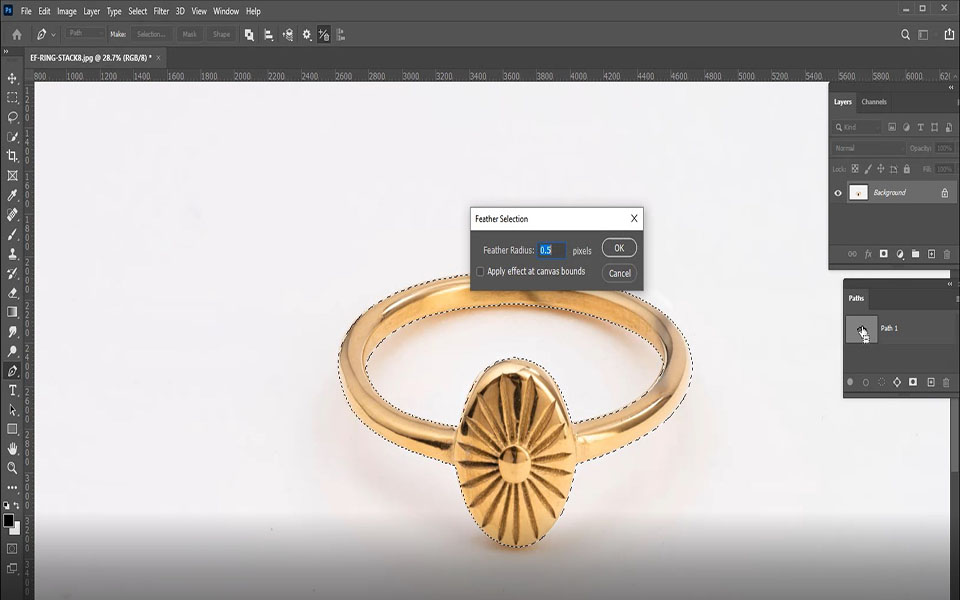 Apply 0.5 feather for smoother edges. Go to 'select' from the above menu, then 'modify' and then select 'feather'. You can also use the shortcut Shift + F6. 
Step 8: Make a copy of the background layer and mask the copy layer. Select a solid color layer in the medial position. 


Step 9: Done! You have successfully created a clipping path for your image. Please note that you can use any color of your choice as your requirement.

Watch the full videos:
Why Clipping Path is Important?
In the present days clipping path service has been in high demand due to increasing number of online businesses, advertisement of different products to make it look appealing to the customer's eyes. 
Clipping path definitely helps to draw attention to the products that have been displayed on the website, giving the buyer a preference to purchase the product. 
Large companies such as Amazon, eBay, Walmart and other e-commerce businesses, rely highly upon clipping path services for their product images to look attractive and make an impact on the buyer as customers choose their products by looking into the picture of the product that has been provided by the seller. 
Clipping path services are in high demand for different industries. Industries and types of companies that use clipping path services for their products are fashion industry, electronic companies, toy companies, jewellery businesses, marketing companies, architecture and interior design businesses and more.
Apart from them, clipping paths holds a wider range of reason and purpose to serve. Clipping path is used in different graphical design, web image optimization, banner designing and other designing works. 
Every designing expert needs to create a clipping path for their work as it is a part of their day to day work.  
Isolating certain parts of an image, removing background and more, clipping path is widely used for different purposes. It is a very essential part in designing and therefore, doing the job from a professional is a wise decision.
Clipping path needs to be absolutely accurate to make your image look good and therefore, experts are the number one choice recommended.

Best Clipping Path Service
Save time and money with the most popular, most professional clipping path service in the world.
30M+ images edited
Next morning delivery
10 free image edits