Guidelines on How to Build a Photography Studio: Best Of 2021
Every photographer out there, regardless of being of portraits or editorials, has wondered about how to build a photography studio for themselves. Having a professional photography studio offers the opportunity to emphasize photos and captures the imagery with more grandiose.
It is quite difficult for photographers to excel at their work if they are moving here and there and go running around the office where there are dozens of people or when they chase after one appointment to another. 
Few things to remember before setting yourself a photography studio:
The very first and most important point is to not go out to every shop that sells the photography equipment and purchase everything.


Build your studio day by day, only purchasing the necessary instruments first to start your project and move forward with the flow.



Do not try to get everything at once. Give yourself and your studio time and it will come together one at a time. To make your place feel unique you need to find and discover yourself first. 
Robert Frank, a swiss photographer once said, "There is one thing the photograph must contain, the humanity of the moment." Photography is an art and it requires space and ambience to show its uniqueness  to others. Photographers need to represent creativity through their work and for that a personal space or a studio plays an important role. 
The right photography studio will enable the photographers to add more creativity into their work which will reflect on the products. To get exclusive shots of products or portraits the right photography studio setup is essential. 
Below are some steps and important factors to build photography studio:
Identify your required space
Before starting out to look for a space, it is wise to start by asking oneself a few questions such as, What is the required studio size, How large or small the room or space should be? Make sure to take into consideration other factors such as lighting, high ceilings, cornered or uniform square room. These questions will help the photographer filter their criteria and will make it easier for them to choose a space for their studio. 
Selecting a photography studio space is often a difficult choice to make. It is essential to make sure that your clients are comfortable in the space. It is not always about how large the studio is but how welcomed your clients feel when they visit your studio. 
Studio Location

It's imperative to get the correct spot to set your studio, particularly in the event that you don't have plans to destroy it at any point in the near future. The fundamental thought here is lighting yet there are additionally other reasonable contemplations like the size of the room or how frequently you'll need to reassemble it, and so on. 
Light Options

'Lighting is what makes or breaks an image' – Connor Mollison, a famous commercial photographer. Lights are the most important in the photography profession, however which light is the correct light to utilize during photography shoot. 
Window light can go one of two different ways; it can either substantiate itself delicately and even, with no reason to utilize the flash on the camera focal point, or it could add superfluous ambient light, making it at last more earnestly to control. To get rid of window lights, get a simple blackout curtain and fix them around the windows.
Speedlight's are lights that can be moved around the studio. These lights are small, and they're known to give close consideration to the zones you point them in. Studio strobes are powerful spotlights that should be connected to a divider. They might be costly, and you will be unable to manage the cost of them from the outset, yet they're worth the venture.
Find the proper background

The secondary most important part that people notice in an image is the background. Whilst there are endless options of backdrops to add to your home studio, the two vital basic essentials are a white background and a non-white background. 
Keep in mind that mostly all businesses and brands, especially those which are  niche labels and need fashion photography use white backgrounds for product photography. Furthermore, e-commerce sites such as Alibaba, Amazon and numerous other outsider online business commercial centers even necessitated pictures that have a white backdrop.
However, when it comes to non-white backdrops, choosing your backgrounds can prove to quite tricky, hence having the right knowledge and refined palate is extremely crucial. While white backgrounds are the go-to for product photography, sometimes, those just don't do the job depending on the product, brand and its context. Besides, having a non-white plain background usually gives off a high-end or editorial sequel feel to it.    
Backdrops will give your studio an exceptionally expert and clean look. Anything is possible with these foundations. In case you're attempting to go for a simple look, it is wise choosing unbiased hued backdrops or neutral colored backdrops. 
You can buy gelled lights and spring them off the neutral backgrounds, as these lights will change the overall shade and color of the fabric. You can generally utilize photoshop to make various looks on your backgrounds, as well.
Obviously, there are consistently beautiful sceneries you can buy as backdrops, however these may look fake, so be cautious about what you take to your studio. Wall mounts are convenient to have around, as well, they'll allow you to hold up a few rolls of paper in a compactable unit; take out the one you need to utilize then set it aside when you're done.
Light Modifiers

Light modifiers are set over the flash to alter or modify the light emerging from the camera. The following light modifier equipment's are generally utilized in photography:
Umbrellas spread light; they attempt to light a huge zone overall quite well.


Softbox modifiers give you more prominent power over where the light is shining. These can be appended to speed lights and studio strobes.
Few other light modifiers that you might consider having:
Reflectors

Grids

Gels

Flags
Reflectors: Exactly what its namesake suggests it does, this tool helps to reflect light back to the shot by letting light rays ricochet off of it. There are 5-in1 reflectors which provide the variety options of white, black, silver, gold and see-through to choose from.   
Grids: These modifiers move the light to be in close bars, turning the direction of light to a specific region.
Gels: These are translucent sheets that change the shadings and colours of backgrounds and pictures to give a special effect. Gels are of many types of sizes, depending on the size of the shot, and are affordable as well.
Flags: Their main job is to minimize or completely stop beams of stray light which might ruin the images. From curtains, cardboards to the black opposite side reflectors, anything that blocks light can be used as flags.
Remember that, the bigger the light modifier is, the milder (however more fragile) your successful light will turn into.
Props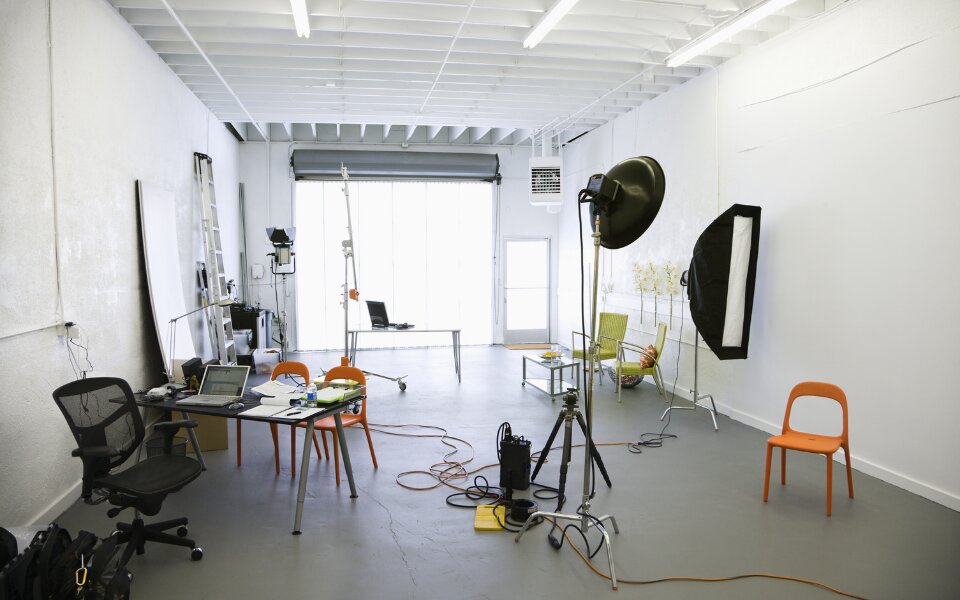 Anything from clothes to accessories or from furniture to background can be counted as  a prop. It makes a scene look hectic and it can also bring out the emotions behind the photographs.
It is not necessary to buy expensive props to make your photo look extraordinary. Try your best to use things in different ways. It is most probable that you have things around the house to prop your photography
products. Olson said, "Don't shoot your product straight-on. Find a unique way to angle your product. Maybe it is leaning on something or slightly tipped." 
Setting up the shoot
One of the most important parts of taking a picture is making sure everything about the picture is perfect. It raises the quality significantly if a shot is captured with different artistic angles.
Do you know the basic gear setup for mini photography studios?
There are huge loads of studio gears to look over that it's hard to tell which ones to purchase first. So what gear do you need for a photography studio?
Try not to fixate on purchasing all the stuff as you begin assembling your studio. It's amazing how minimal the gears you need for most photoshoots.
Basic gear setup for a small home studio:
Lights – One light and a reflector are more than enough to start. However,  Those lights can be three cheap manual Speedlight's that will give you the best flexibility.
Flash Trigger – It triggers your flash units remotely but to use this a specific model is needed that's compatible with your strobes and your camera. Otherwise, it won't work at all.
Lighting modifiers – A reflector and umbrella are a must which can be folded into small, easy-to-store packages.
Light stands – You need one to represent each light. As a general guideline, the heavier your light is (alongside the light modifier), the sturdier your stands should be. Try not to put resources into cheap stuff or you will hazard your lights being excessively shaky and unstable.
Background/ Backdrops – A folding background is a decent way to start instead of installing a permanent background or a backdrop. 
Other optional gears:
Step ladders – Stepping stools or ladders are valuable to change your point of view on your model. Yet additionally it also helps to change the direction and settings of your lights.
Fans – A fan can bring some movement into your representation (think wind-blown hair or garments). Be that as it may, they can likewise make it agreeable to work in hot studios. Persistent studio lights and strobes with demonstrating lights create a decent measure of warmth.
Extensions and power strips – In the event that you use studio lights other than compact lights, consider getting extension cords and power strips. You'll require space to connect your lighting gears.
Furniture – On the off chance that you will do representations bigger than headshots, you ought to consider having some furniture around. Seats and stools are unquestionable requirements.
How much does it cost to assemble a photography studio? 
With regards to how to assemble a photography studio, you need to ensure that your photography gear addresses your needs. It is always best to try not to spend a ton of cash on a light that you'll won't ever utilize.
Making and building your personal studio might seem frightening, but on the other hand it's satisfying, considering the fact it'll end up being absolutely your own! Start by choosing the space you need to work on, research and go to different stores instead of purchasing all the materials from one store. 
The more attractive the photographs are, the more it will encourage and inspire the buyers and clients to hire the photographer. It will definitely increase their chances in the industry forming a ladder for their future success.