How to send files through FTP
FTP (File Transfer Protocol) is a faster and securer way of transferring any files from PC to PC or PC to Server over the internet. It is best for large files like RAW, PSD, TIFF file type images. To outsource your image for editing like clipping path, retouching, background removing works ftp can be a life savior for you. As there is very few options you have when you want to transfer your files without dropping the quality.
You can send your large amount of files with large size through ftp using a third party application for post processing and also can receive files from UK Clipping Path.
Importance of using FTP
Now why you will use ftp? How it is better than typical "http file transferring" method? You can transfer files using different applications like "Dropbox", "Google Drive", "We Transfer" and many more through http method. But one of the main disadvantage of using http method is unable to transfer larger file. Another one is slow transferring rate and you will also have connection lost issue top of that. Let's know some of the advantages of using ftp which will make you realize the importance of ftp.
Advantages of File Transfer Protocol (FTP)
It allows you to transfer multiple files. You can even transfer an entire directories also.
It can save your transferring process even in connection lost period and can resume from where it stopped.
You can add or delete files from the queue of Download/Upload.
You can also do schedule transfer if your ftp client supports.
"Size doesn't matter" for ftp servers which is a big time saving feature.
It can transfer file faster than HTTP.
It is supported by all hosts also.
How you can send files to us?
Let's walk you through the process of using our FTP to send or receive files faster from us. You will be provided with a "Host Name", "User ID", and "Password" from UK Clipping Path to use our FTP server.
Now I will give you a short tutorial on how you can setup our ftp server on your computer and send/receive files through it.
To setup any ftp server you will need a third-party software. Today I will use "FileZilla". FileZilla is totally free which means you can use it for transferring your files free of cost. First download the software. You can download it from the link bellow: https://filezilla-project.org/
After downloading the software open and install it on your computer. Now you need to set it up with UK Clipping Path's ftp server to be able to transfer your files to us. Let's see how you can do that.
FileZilla Tutorial
Step 1: After launching the software you will a window like bellow where the left side is contains your PC's file detail (Red Box) and on the right side will contain the other side where you will transfer your file or receive from (Green Box).

Step 2: Now configure FileZilla to connect to your website Click on the button that is shown in the image with red arrow pointing on it.
Step 3: After clicking on that button will open a window where you will see a button called new site. Press that and few empty boxes will open for editing.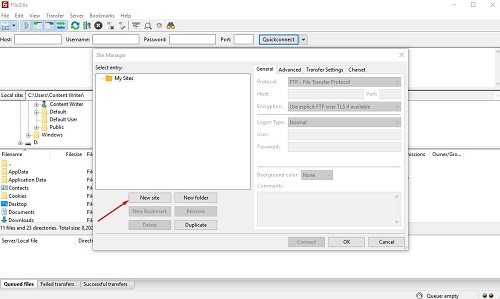 Step 4: You will write on the three boxes that are shown with red arrow in the picture. In the first box you will write the host address which will be provided from UK Clipping Path. Then you will fill up the user name and also the password box. These information also will be provided by us.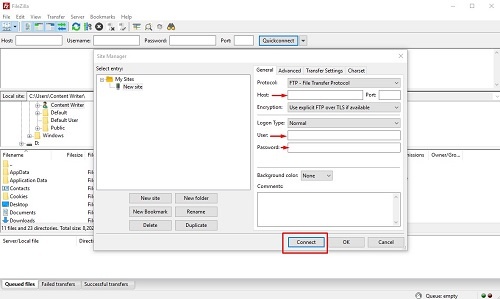 Then hit the connect button and you will be connected to our server shortly.
Step 5: After that on the right side you will have the destination directory where you will upload/download you files.
Step 6: Now to upload your file from your PC (Left side of the software) to the destination directory which is on the right side all you need to do is go to your folder and select the files you want to transfer and right click on the mouse and select the upload option and your file will be uploaded.
To download after the post processing all you need to select the files and right click on the mouse and select Download option to get the files.
Isn't it simple? If you face any problem configuring it just shoot us an email and we will response you with a solution right away.
I Prefer UK Clipping Path for Image Editing Projects
Now that you know how to transfer files through ftp let's talk about why you will choose us for clipping path projects?
UK Clipping path is a London based image editing solution experts who can give you the premium quality post processing service at an industry bottom price. We will provide guaranteed security of your image and our fastest turnaround time will let you get more projects in the future. Not only that with our money saving strategy you will be able to save up to 80% of your post processing cost. Let me explain how…
Suppose you have an in-house setup for your post processing. According to my research in-house setup cost thousands of dollar and pound. If you have 1000 images per month which costs you over 1000 dollar/pound with the in house setup whereas with outsourcing them to UK Clipping Path will cost you less than 1000 dollar/pound or to be accurate you can get them done by 500 to 600 dollar max. So by outsourcing you can save up to 50% of your post processing cost.