The Most Unconventional Ways to Learn Background Remove (Part 1)
Uk Clipping Path contains several blog postings that talk about which light boxes, camera, and lenses to purchase to create beautiful product photographs. This post discusses the next step in the process of product photography editing. Once you have taken a good-looking product photo, Photoshop can do a great deal to sharpen images to make them look even better. I will describe in this post the techniques used for editing product pictures and some tools to accelerate the process.
Who This Tutorial is for?
This tutorial is intended for business owners who are DIY's. In the past, you may have stuck in Photoshop or Photoshop Elements but have not had time to learn the various tools in them.
Which Software do you need for this?
For this article I will be using "Photoshop CC" but you can also find the tool I will be mentioning in "Photoshop Elements". You can also use free software like GIMP, Picasa, and PhotoScape, etc. I will also use "Microsoft PowerPoint" and I will show you a few tips and tricks of PowerPoint.
This article will be in three parts. In today's part I will be discussing "How to remove image background in PowerPoint?" and I will also be discussing "Spot Healing Brush Tool". In the next parts, I will be discussing another more ways to remove background and will show how to use "Hue/Saturation Tool in Photoshop".
So let's begin…
Today I will be focusing on product photo editing. Product photo editing is important for every online marketplace like Amazon, eBay, Flipkart, Aliexpress, etc. If you are an e-commerce business holder you must know the image requirements for the online marketplace. To make your product photo acceptable in these marketplaces you have to go through the image editing process. For product photo, the topmost photo editing you will need is Background removing with clipping path, and colour correction for your product.
There are many ways that you can use for removing the background of your product photo. Firstly let's know the ways.
You can use Microsoft PowerPoint

You can use the Polygonal Lasso Tool. This method is great for images with straight edges.

You can use the Quick Selection Tool. It's great for images with round edges.

You also can use Brush Tool. This tool is best for images whose edges require more precision. Or

You can try Pen Tool in Photoshop. This is the ultimate Photoshop tool for image editing.
The only background removing isn't the thing for product photo editing, Color correction, Sharpness, Spot removing and shadow creation is also important. Today I will be describing two Photoshop methods of background removing and I will give you an in-depth tutorial on spot removing from a product photo.
Spots can ruin your beautiful product photo and left a disappointing effect on your product. So removing every spot is a must. You can remove any spot by using "Spot Healing Brush Tool" in Photoshop easily. The Spot Healing brush can remove small spots and faults from products like dust, scratches, loose threads, etc. The main process is this: We emphasize areas to be fixed, then Photoshop analyzes and replaces those pixels by the colours around them.
Here's a sample picture. Black area seems to reflect the camera on the metal. Let's fix it by replacing black with steel so it fuses with the remainder of the picture.
Step 1: Start with selecting "Spot Healing Brush Tool" from the left menu bar.
Step 2: Then, Choose a brush size from the top menu. Brushes are used in Photoshop for a variety of tools. It's like a paintbrush. This is like a paintbrush. If you want to remove a spit of powder, for example, you want a small brush to remove that spit precisely.
You will see that your cursor changes to a circle when you have clicked the Spot Healing Brush Tool and hover over the image, and the size of the circle is the brush size. The size of the circle changes accordingly if you increase or reduce the brush sizes. Choose a brush size to paint in one stroke over the black area.
"Hardness" is the next brush setting. Here's an example if I use a paintbrush for different hardness settings. The higher the count, the stronger the brush's edge.
Note: A brush is called a soft brush, with a low hardness setting. When you review other Photoshop tutorials you will hear this term a lot.
I choose a lower hardness to make such corrections so that the colours mix more smoothly. The picture will look like it was edited with a 100 per cent setting. For this tutorial, I chose 48% but usually, it works well a little higher or less. Leave their default values to the other settings.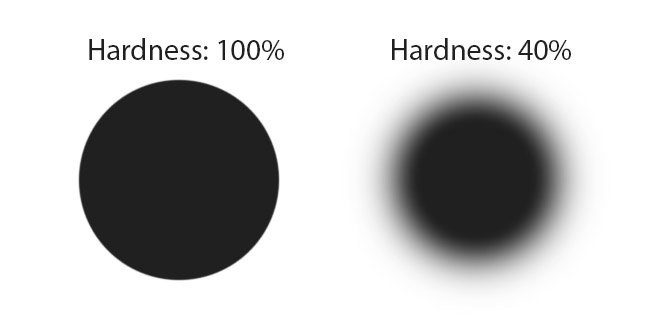 Step 3: Just drag the brush over the spot. When you do, the Spot Healing brush gives the area you painted a black highlight.
Step 4: After doing that Photoshop analyses the area and fix it by bringing the same colour from nearby.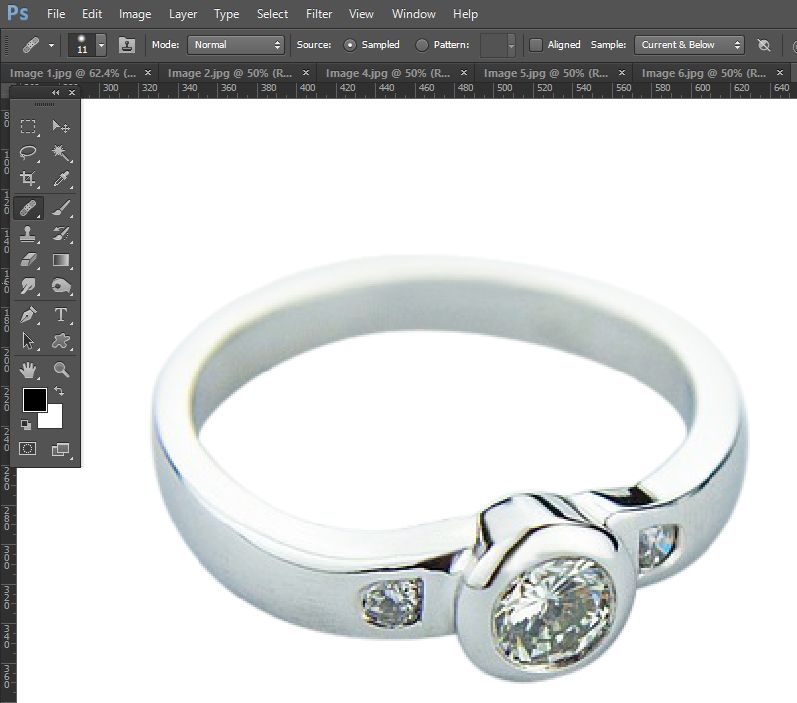 Likewise, you can tweak the size of the brush and you can click on the other spots. When the picture is larger than the actual products in the photography, small spots and scratches are often visible. To remedy it, use this tool.
Now let's learn "How to Remove a Photo Background in PowerPoint?"
Bear in mind that you will need to use Office 2010 or later and that PowerPoint doesn't work for some of the more difficult images because it is not as sophisticated as Photoshop. But it could be just what you need if you don't have access to Photoshop.
Step 1: Insert your image in the PowerPoint file
The easiest to manipulate in PowerPoint is pictures with white/solid backgrounds or with a strong contrast to the foreground.
Step 2: Click on your image and go to Format à Background remove.
Step 3: You will see PowerPoint will try to remove the background automatically but it won't do perfectly and you have to do some tweaks by yourself.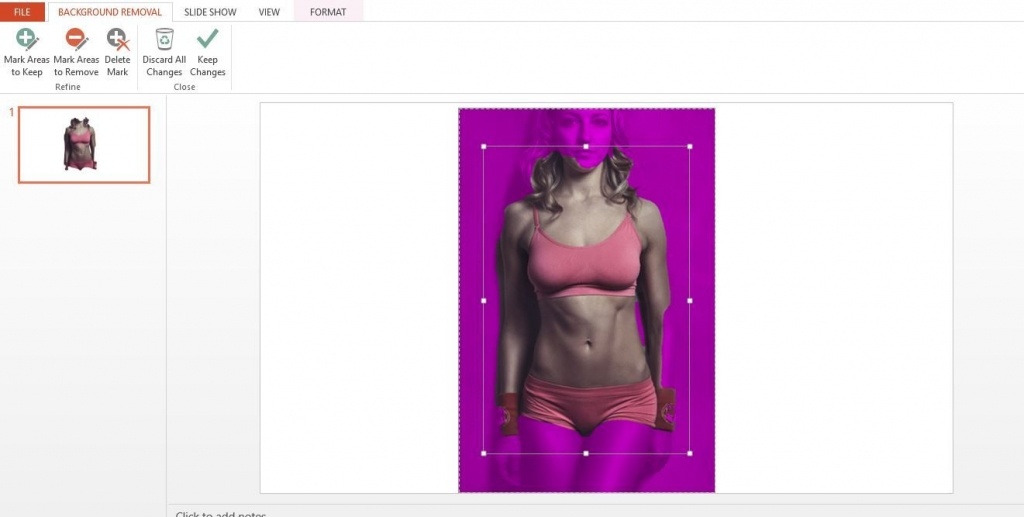 Step 4: Use the option on the top left corner where you will find few options.
See how the girl's hair is cut off at the top? First, pull the box around the image, so it encompasses the whole picture area.
Be careful not to remove the areas that will be emphasized in purple. However, you can be even more accurate about what you want to remove using your cursor. Hangover the purple background and the topic on your image— you can see either a plus sign or a minus sign on your cursor. The minus sign allows you to mark removing areas when hovering over your subject— just click on any additional areas that you want to remove. If you want to keep purple areas, swim over a purple spot and click on the area to mark — they have a plus sign on them.
Zoom into your image to get an insight into the areas you want to select. Below, you'll see little minus signs around the girl hair areas— I have clicked on these spots where I think PowerPoint could be confused about which sections of the background between hair strands should go or stay.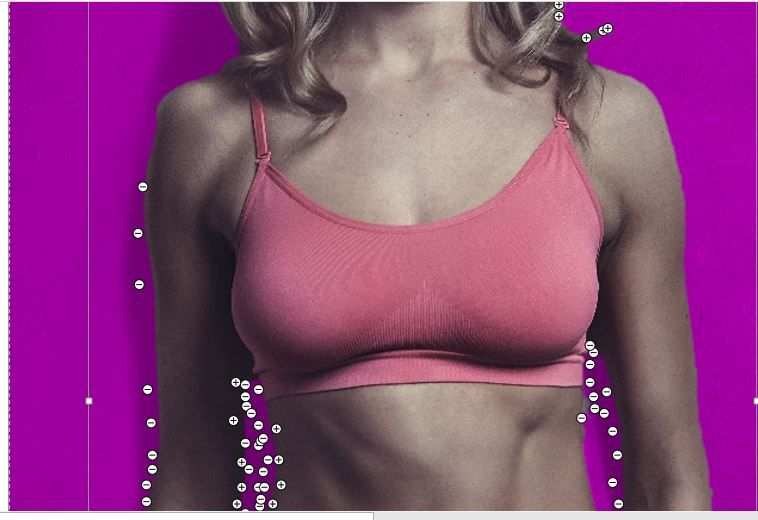 These hair strands could be seen by PowerPoint like the edge of the girl, not taking the background between the hair and the rest of her skin. These minus signs can help you in this kind of case. If something occurs wrongly, click on the plus or minus sign covering the area, and it disappears.
Step 5: Click on the Keep all changes option from the toolbar and the background will be removed.
You can Learn Photoshop from various sources. Check out Photoshop Tutorials on the Adobe website to learn about Photoshop. These are a number of short, free videos which show you how to use Photoshop. They are not specific for products but give you an overview of the concepts of Photoshop.
Take a look at Phlearn, run by the professional retoucher, Aaron Nace, among paid courses. There is also a free section, but his newer courses are included or can be bought in a paid plan. There is an extensive tutorial on how to remove the backgrounds from photos-useful if you want that perfect white background for product photography. There are several techniques for removing background information and these videos go into detail. You can use remove bg, which is an online background removing the website. You just have to import your image and they will remove the background within seconds. With these online background removing the system, you cannot have a professionally edited image which you can use in your business.
If you need professional editing within a short period of time you can choose us. We are one of the top image editing company in the UK. If you are an e-commerce business holder or a professional photo studio and you are spending high on your post processing please visit our website. We have over 150+ full-time Photoshop experts who are highly talented and experienced in image editing for years. We provide 24/7 customer support.
"We do not sell our services, we decorate your story to be perfect to others."
Our Top image editing services are Clipping Path with background remove, Shadow creation Service, and Image Masking Service, Ghost Mannequin Service, Jewellery Retouching Service, and E-commerce product photo editing service.