How Photoshop Clipping Path Spreads Ecommerce Business into the Village Seen This Year
Currently we are witnessing the booming face of eCommerce with the help of Photoshop Clipping Path. You will understand, "what is the reason behind mentioning clipping path with eCommerce booming?" at the later part of this article.
Experts are talking about it, predicting about it all over the internet. But
What makes it that successful?
Why will it bloom that much?
What are the attributes behind its success?
How a clipping path can help? And
Why I am targeting the village?
Let's know the answers to these questions.
History:
Do you know which eCommerce platform is the most trustable and famous in the world today? It's Amazon. Though Walmart, Alibaba, EBay, Flipkart etc are also known but Amazon has the most number of share in eCommerce market.
Amazon is an American multinational technology company but in its early age it started as an online marketplace who sells only books. Later it expanded and started to sell electronics, software, video games, apparel, furniture, food, toys, and jewelry. 2015 was the year when Amazon surpasses Walmart as the most valuable retailer.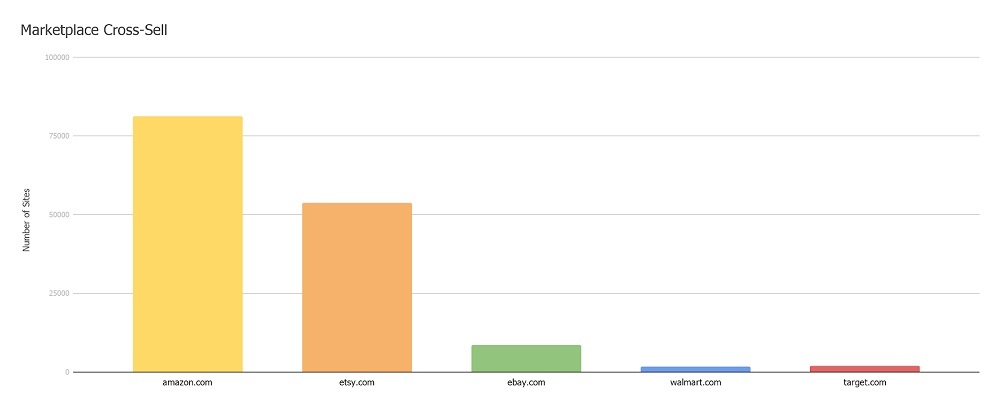 Image cutesy: semantics3
From the report above, it is clear that Amazon is the number one of all of them. The US economy and worldwide society, good or worse, are in the throes of "Amazon Effect," the word used to define the achievement of Amazon.com, which has improved both internet and off-line retail exercise and client expectations. Amazon already accounted for about 50% of eCommerce revenues of the nation and 5% of all total offline and internet revenues by mid-2018.
Survey of Packshot Photography:
According to Wikipedia," "Packshot is a still or shifting picture of a brand that is used for representing a reputation of the item in publicity or other media and generally including its packaging and labeling. It is a significant incentive for customers to trigger product identification in-store."
Unlike other forms of photography, such as fine art, glamor, portrait and landscape, the primary purpose of photography is to precisely reflect the product as it appears in real life. In product photography creativity has no limit. The photographer must ensure the clear and accurate reflection of colors, shape and letters or writings.
If we go back and see the photography history we will find something interesting. Let's know about some name of photography history quickly…
Ancient Art
Medieval Art
Renaissance Art
Baroque Art
Rococo Art
Romanticism Art
Academic Art
Realism
Impressionism
Symbolism
Fauvism
Expressionism
Cubism
Futurism
Abstract
Surrealism
Pop Art etc…
By looking at the growth of eCommerce business and the product photography with it we can consider this photography eCommerce era as "Product Photo eCommercism".
According to our research done in LinkedIn," we found that 40% of the Packshot Company are in USA following that 15% in UK, 8% in Brazil, 7% in Canada, France 6%, India 5%, Italy 4% and others with 15%."
Packshot companies are the life of product photography. It makes product photography unimaginably easier than before. The studio set up costs is also gets lower than before. By seeing the growth of e-commerce market and thinking about the future Packshot photography is the one and only photography for product will gain.
Survey of Clipping Path Company:
All the photos that are captured by the Packshot photographer is need to be edited. Product photos mostly needed two or three types of image editing. Clipping path is the main part of editing any product photos. Clipping path or cutout is done by using pen tool. It creates path around the desired object and then you can edit it however you want. Apart from deep etch service product photos need shadow creation, color correction, ghost mannequin  and retouching.
Most of the people has an idea that setting up your own in-house design team will give you the best result which is partially true but not entirely. Because as we see most of the famous and large company who do Packshot are in Europe countries and here setting up a photo editing expert team will cost you unimaginably high. Yes you will get high quality editing service but your profit margin will be in a lower side. The only solution for this is to outsource your image post processing to professional image editing company.
According to a research many countries has large number of Clipping Path Company but not all of them are up to the mark. If you want to know which country has the best professional image editing company you have to do some research which we did for you. As per our survey we found out that among all the image editing company there are few reputed and professionally build company like UK Clipping Path, Fix The Photo, Pixels, Clipping Path India etc…
In that survey we found out that Bangladesh has over 55% professional clipping path company with premium quality photo editing service at a low cost, Then we have surprisingly United States with 16%, India with 11%, UK with 4% and the rest of them are not as recordable.
State Of Ecommerce Selling Position:
According to an online research," In 2019, the worldwide retail industry is forecasting to achieve $25,038 trillion, an improvement of 4.5% and slow development compared to the previous year. At the same moment, the figure reflects a significant decrease over the five years leading up to a year's growth in worldwide retail revenues of 5.7 to 7.5%.
Image Source: eMarketer
We predict that worldwide eCommerce will grow to $3,535 trillion in 2019 by 20.7%. Despite the evident high development pace, 2019 will be down by 28.0% in 2017 and 22.9% in 2018, compared with the past two years. We predict world eCommerce to reach $5 trillion in 2021. However, we predict development levels to drop below the 20 percent limit by 2020.
Today a smartphone is easily reachable in almost every corner of the world. Not only cities but also villages are now can explore the world of internet. So getting a desirable product into your hand just by sitting at your home is a tempting thing. Which leads village people also in online shops. The rate of spreading smartphone and internet in the village is so fast that it will only leads us to a booming eCommerce business in next few years for sure. So your product photo must need to be edited with high quality editing. Photoshop clipping path is the base of product photo editing and this Photoshop technique can spread today's eCommerce into its booming stage.
Contribution of UK Clipping Path:
As eCommerce business is booming day by day importance of product photo editing is also going to be at its peak. When we say product photo editing clipping path comes automatically as this is the base of any product image post-processing. We already stated you that if you try to post-process your product photo with your in-house Photoshop experts it will cost you a lot. For thousands of product photo editing to be edited with premium quality and also at a cheap rate outsourcing is the best option according to me. Above we see that in all of the image editing company over the world few of them are capable of editing any amount of images with premium quality editing.
UK Clipping Path is proudly one of them. Our main focus is on quality but keeping the price as low as possible. Our highly professional Photoshop experts are the only reason behind our success. According to us why spending thousands of cash in post processing by hiring experts when you can just send us the files and we do the hard work for you but of course at one third of your in-house cost.